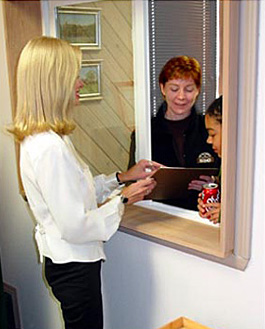 Gray Neuropsychology Associates, Inc (GNA) was founded in 1988. The owner and Clinical Director is Dr. Steven Gray. We are a Christian clinic with offices in Dallas, Texas and Colorado Springs, Colorado. Our mission is to help children and teens overcome a wide array of brain-based and emotional disorders. Our goal is to promote healing and strong self-esteem among youth. All too often, society falsely blames parents for any and all problems their kiddo exhibits.

In addition, we offer counseling and neurofeedback services to adults (as well as youth) who suffer with brain injury, and/or stress-related chronic health issues such as headaches, insomnia, and Irritable Bowel Syndrome.

Although our staff is Christian, we serve persons of all faiths, including agnostics and atheists.

Above - Dr. Gray's wife and psychometrist, Debbi, checking in Mom and young teen, Demi, at the beginning of the day's evaluation.