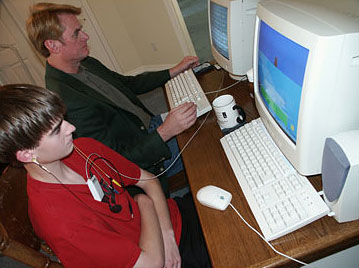 Neurofeedback (NFB) is a cutting-edge technology which has proven effective in successfully treating a number of syndromes. Examples include: rebellion, Conduct Disorder, oppositionalism, depression, Post-traumatic Stress Disorder, Reactive Attachment Disorder, Borderline Syndrome of Childhood, ADHD, and Learning Disabilities. Here, a young person receives immediate feedback via a video game, while the EEG feeds neurological information to him on a moment-to-moment basis. Thus, the child/teen learns how to normalize wayward electrical activity in the brain. As a result, dramatic symptom resolution is accomplished, in many cases. One appeal of NFB is that it is a non-medication approach.

Dr. Gray also offers intensive NFB training (4-10 sessions per week) during the summers, for youth who desire to accelerate their own brain training, at his Colorado Springs office.

In addition, NFB home-training is an excellent option for parents who either live in an area of the country that does not have NFB providers, or who simply wish to save money by becoming trained as NFB technicians able to then work with their own children at home. Dr. Gray's office is glad to offer information on the specifics of NFB home-training for interested persons.